When it comes to concessions, snacks, vending, and coffee services, one of the top labels to emerge is Vistar-Liberty. An amalgamation of two of the country's food specialists, the joint venture specializes in on-time food service deliveries to clients all over the nation.
If you are looking for a 'sweet' job that is as fulfilling as it is challenging, then do consider any of these Vistar-Liberty distribution center jobs:
Warehouse Order Selector
As one of the largest food service distributors in the country, there really is a proliferation of Vistar-Liberty Distribution Center jobs from coast to coast. One of the vacancies that might appeal to you is that of a warehouse order selector.
As a warehouse order selector, your job duties include the following:
Obtain items needed for daily operations
Check functionality of pallet jacks or forklifts before usage
Place pallets on forklifts or pallet jacks
Locate merchandise according to order sheets
Organize stock items on 1st and 2nd level racks by hand
Wrap, label, and prepare client orders
Move palletized customer orders to the shipping area
Perform inventory counts, ascertaining accuracy along the way
Inspect products for any damages
Complete pertinent documents
Carry out housekeeping duties
In order to land the job of warehouse order selector, you need to meet the company's general requirements:
High School Diploma or equivalent
Experience in the warehouse or distribution center industry
Warehouse Worker
If you are looking for entry-level Vistar-Liberty distribution center jobs, then the call for warehouse workers is perfect for you. Should you be hired for this job, you will need to perform the following essential functions:
Accurately operate power material handling devices
Obtain, load, and palletize client orders and prepare them for delivery
Perform other tasks as needed
As an entry-level job, the only requirement for applicants is a High School Diploma or equivalent. Once hired, you get to enjoy the following benefits:
Competitive benefits
4 personal days per year
2 weeks' vacation leave per year
6 sick leaves per year
Paid holidays
Forklift Operator
Transporting bulky items from one area of the distribution to another is a herculean task. To accomplish this, an opening for forklift operator has been included in the list of Vistar-Liberty distribution center jobs.
The duties and responsibilities of a forklift operator include the following:
Move devices, levers, and controls to operate industrial forklifts
Secure and organize products where boxes, pallets, and sacks are stored
Inspect the forklift prior and after use to ascertain its optimum functionality
Load and unload merchandise on platforms, pallets, skids, and lifting devices
Weigh merchandise and record these measurements on labels
As with other Vistar-Liberty distribution center jobs, the basic requirement for this work is a high school diploma. As for the certification, forklift trainings will be given to the operators annually.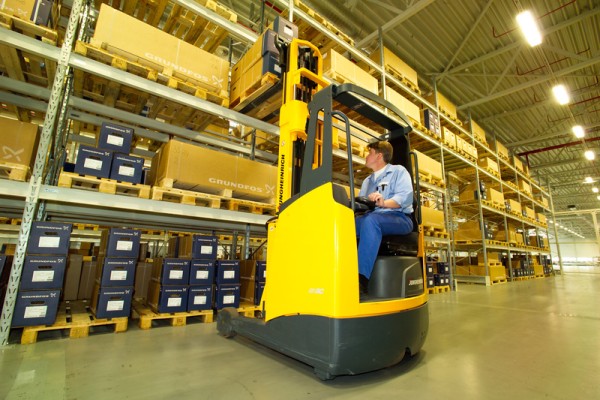 Electric Pallet Jack Operator
If you are certified in electric pallet jack and forklift operations, then this is one of the Vistar-Liberty distribution center jobs that is right up your alley. For this work, you will be expected to perform the following duties:
Operate warehouse equipment
Obtain grocery products according to client orders
Safely operate electric equipment whilst selecting, palletizing, and loading customer orders without any errors or damages
Follow all instructions and safety procedures
Perform other warehouse activities as assigned
To qualify for these Vistar-Liberty distribution center jobs, applicants have to fulfill the following requirements:
High School Diploma or equivalent
Certification in Electric Pallet Jack and Forklift operation
Prior experience in the warehouse or distribution center industry
Ability to perform basic mathematical equations
Ability to lift up merchandise weighing as much as 80 pounds
Ability to work in storage environments with temperatures as low as -10 degrees
Ability to focus and concentrate on assigned tasks